It's a girl!
Starstruck Motif (Pioneer Eclipse X Daalda Magnolia)
Born the morning of April 26, this black or black/bay beauty is a real charmer. Four socks and a star make this little gal one classy lady. She's a doll!
Click HERE for more pics!
Starstruck Walor "Valor" (Pioneer Eclipse X Selket Waltz)
Born 5am May 24th black going grey colt. Arriving 2 weeks early Valor is probably the biggest foal we have had to date! He is very pretty with a super long neck, super long legs and he is a super substantial colt. Did we mention he was pretty super? :)
Click HERE for more pics!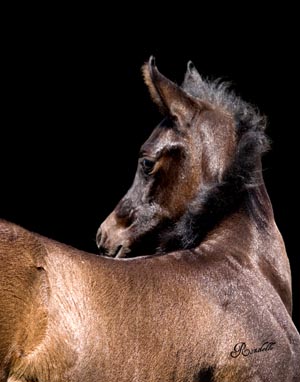 Starstruck Mystec (Pioneer Eclipse X Mysteryanna)
He's arrived! Born 4am on Memorial Day (5-28-07), Mystec, is a neat colt, though he is a funny shade of bay, really more of a fawn, with two back white sox and a star. I look forward to seeing how he sheds out before fall. He could be a black. He has a beautiful face, incredible eye complete with eyeliner, a lovely neck, and a charming personality. Mysteryanna did a wonderful job! Available, please inquire....
Click HERE to see more pics.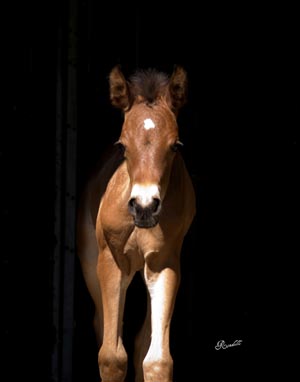 Soaring Good Gahli (Pioneer Eclipse X Ginger dun BS Paint)
Flashy dun half Arab/Quarter with chrome. Is this guy ever cute, and he looks like he will be a show stopper. Available for purchase $4000.
Click HERE for more pics.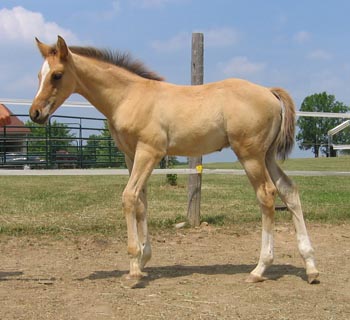 Mirari's Soaring Ferari (Pioneer Eclipse X Mirari (Half Arab/Trak))
Stunning black half Arab colt, full brother to Fergi and sure to be a sporthorse superstar. Available for purchase $5000
Click HERE for more pictures.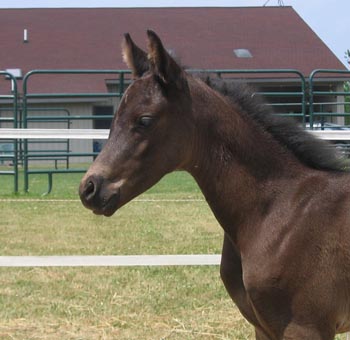 Black and white Half Arab filly (Pioneer Eclipse X Xanadu (reg. paint))
This lovely little lady is going to be very special. She is very athletic and substantial already, and is certainly all show. Congrats on this little girl!
Click HERE for more pics.